Research shows how you can lose weight and fat mass, and reduce waist circumference and hunger hormone levels with two shakes a day
if you're looking to steadily lose weight the healthy way, then try this Two-Shakes-A-Day Diet Plan! Unlike fad diets, you won't starve. You won't sabotage hard-earned muscle. You won't spend a fortune on prepared meals or diet systems. And you'll get healthier in the process.
Here's how it works…
Drink two high protein, low carb shakes a day
Add a scoop of fiber like psyllium
Add a tablespoon of fish or flaxseed oil for their omega-3 content
Boost your shake with veggies or fruit
Have 2-3 other meals (snacks) a day
Reduce your calorie intake to about 500 less per day than your break-even calorie level
You'll lose about one pound of fat a week. It's a very livable plan that's backed up by clinical research. Adjust your carb intake to lose weight faster or slower. Be sure to exercise at least three times a week and then enjoy steady weight loss without radical changes in your diet.
After you review the research below that supports the Two-Shakes-A-Day Diet Plan, read the rest of this article for more weight loss tips.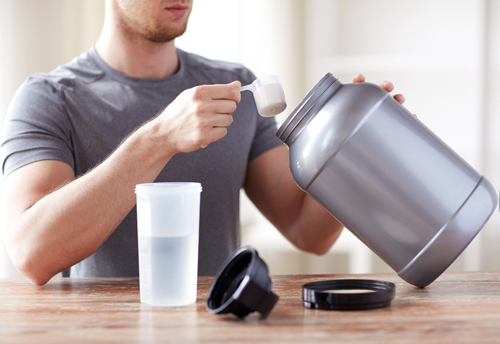 Studies show how much you'll lose
Compelling research shows that drinking 1-2 shakes a day can help you lose weight and keep it off.
Drink two whey shakes a day and lose 5 pounds of fat
A clinical trial published in the Journal of Nutrition tracked the body weight of 90 overweight men and women during 23 weeks of drinking two shakes a day. No other instructions on what to eat were given. They drank either whey protein (28g of protein each), soy protein (28g of protein each) or carb shakes. Each shake contained about 200 calories.
They drank them around breakfast and dinner. The whey group lost 4 pounds of body weight and 5 pounds of fat mass, as well as reduced their waist circumference and fasting hunger hormone (ghrelin) levels. The soy group lost 2 pounds of body weight and 2.4 pounds of body fat. The carbohydrate control group showed minimal changes.
Drink two MRPs a day and lose 6 pounds of fat
In a study of 38 overweight and sedentary male and female adults published in Nutrition and Metabolism, researchers looked at the effects of a meal replacement powder (MRP) totaling 300 calories per serving (40g protein from whey, casein and milk protein isolate, 25g carbohydrate, 6g fiber, and vitamins and minerals).
Subjects drank this MRP once daily for 2 weeks, then twice daily for 8 more weeks. They also exercised 3 times per week and were compared to an exercise-only group and a control group who did not participate in an exercise plan.
After 10 weeks, the MRP-exercise group experienced an average of 6 pounds of fat loss and a 2-pound increase in lean body mass. The exercise-only group lost 2.4 pounds of fat and gained 1.8 pounds of lean body mass. The control group experienced minimal changes.
Of the three groups, only the MRP-exercise group experienced a 12% reduction in cholesterol and 13.3% reduction in LDL ("bad" cholesterol). Also, the time to exhaustion during a standardized treadmill test improved by 21.2% in the MRP-exercise group compared to a 9.8% increase in the exercise-only group and a 1.4% in the control group.
For reference, during the last 8 weeks of the study, each day the MRP-exercise group consumed 131g of protein, 190g of carbohydrates, 63g of fat and an average of 1,854 calories.
25-pound weight loss difference over 5 years with one MRP a day
In one study conducted over a 5-year period, overweight subjects who consumed a meal replacement shake lost about 10 pounds compared to others who gained 15 over the same time period, resulting in a 25-pound difference in weight between them. The value of a meal replacement may be the structure of having a prepared meal, which can reduce the temptation to eat the wrong foods.
Choose a Protein
The foundation of your shake will be a high-quality protein powder mixed into water, not juice. Add about 20-30 grams of protein per shake – the older you are, the more you may need to maintain muscle. A study of adults, average age of 70, showed when they took 40g of whey protein versus 20g, they boosted their muscle protein synthesis by 32%.